Organisation
The consortium
Feed-a-Gene gathers 23 partners from 8 European countries and China: 8 research institutes and higher education organisations, 9 industry partners (2 involved in livestock production, 2 in innovative technologies for animal breeding, 3 in feed production and transformation, and 2 in equipment for precision feeding), 6 in extension and management.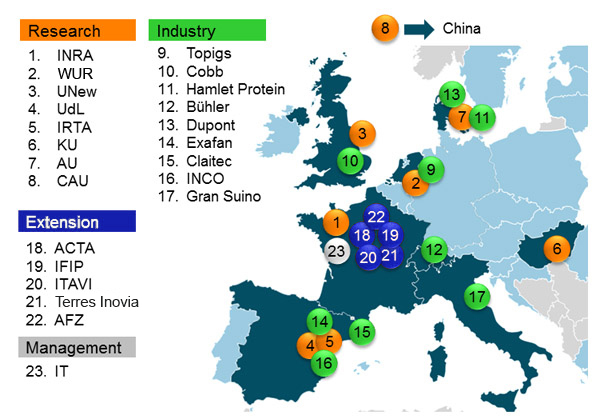 Click on the map to see the organisation's page.
Governance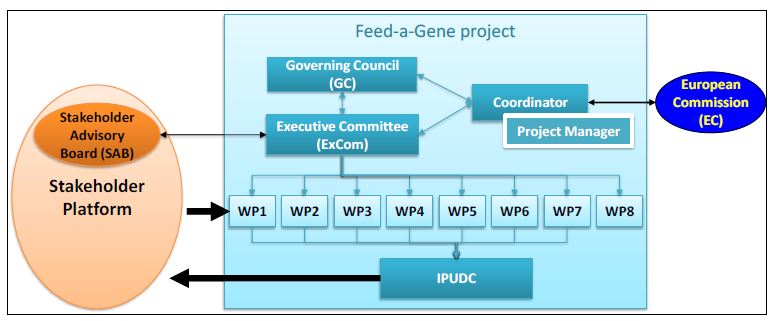 Coordinator : Jaap van Milgen (INRA)
Governing Council (GC): the GC is the decision-making body of the project, responsible for its strategic and political orientation
Executive Committee (ExCom): the ExCom is the decision-implementing body of the project, in charge of the operational management of all activities of the project.
Intellectual Property Use and Dissemination Committee (IPUDC): the role of the IPUDC is to advice on the management of knowledge, intellectual property and other innovation-related activities arising from the project, and to monitor the implementation of the principles governing intellectual property rights
Stakeholder Advisory Board (SAB): the SAB provides an external point of view on the way to conduct the project to bring a maximum outcome to society and to advise the consortium where and how the most promising results should be exploited
Stakeholder Platform (SP): the SP provides preferential contacts for the dissemination of project outcomes to society and for consultation by the project partners on specific issues where the input from stakeholders is needed.