Feed-a-Gene newsletter #4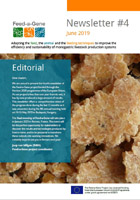 Welcome to the fourth Feed-a-Gene newsletter
We are proud to present the fourth newsletter of the Feed-a-Gene project funded through the Horizon 2020 programme of the European Union. As our project is less than one year from its end, it has by now produced a large amount of results. This newsletter offers a comprehensive vision of the progress done during the last 12 months.
The final meeting of Feed-a-Gene will take place in January 2020 in Rennes, France. This event will be the perfect opportunity for stakeholders to discover the results and technologies produced by Feed-a-Gene, and to be prepared to transform these outputs into working innovations. We certainly hope to see you in Rennes next year!
Jaap van Milgen (INRA), Feed-a-Gene project coordinator
The fourth annual meeting of the Feed-a-Gene project took place on 14-16 May in Budapest, Hungary. Feed-a-Gene partners presented the work done so far, shared their results and planned activities for the next year. Attendees appreciated the organization of the meeting by Veronika Halas and her team at Kaposvár University. Feed-a-Gene project coordinator Jaap van Milgen and project manager Vincent Troillard would like to thank all the people at Kaposvár University who made this meeting possible and enjoyable.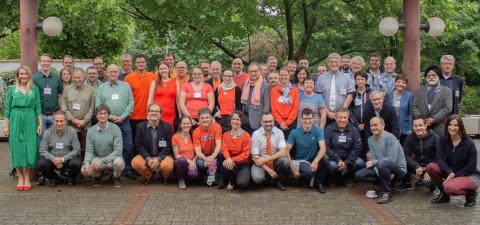 Much progress has been made in the fourth year of the Feed-a-Gene project. Click on the following links to read the progress reports for each work package.
Stakeholder sessions
Four stakeholder sessions took place in 2018, including 3 joint Feed-a-Gene/SAPHIR meetings. Those meetings were an occasion for researchers and stakeholders working in animal genetics, nutrition and health to discuss and share perspectives.
Multidisciplinary approaches for improving sustainable livestock production
This joint Feed-a-Gene/SAPHIR session was held on 30 August 2018 at the EAAP annual meeting in Dubrovnik, Croatia. Its objective was to address and discuss the challenges and opportunities in multidisciplinary research in livestock production. As there is no "one-size-fits-all" solution, how can different actors and stakeholders make collectively best use of disciplinary knowledge and levers to make livestock production more sustainable? Attended by 150 people, it featured 18 communications and two discussion panels, one about research needs and one about stakeholders needs. Watch the videos of the Feed-a-Gene communications and of the panel discussions on Feed-a-Gene's YouTube channel.
Millions of data! Too many or too few for livestock farms of tomorrow
This Feed-a-Gene/SAPHIR session was held on 11 September 2018 in Rennes, France, during the SPACE Agricultural Trade Show. Its objective was to discuss the use of "big data" to improve animal performance and animal health in livestock farms. Attended by 100 people, most of them French stakeholders, it featured 5 communications by INRA researchers. The presentations are available on the Feed-a-Gene website
Novel tools for healthier and efficient livestock: from research to application
This Feed-a-Gene/SAPHIR session was held on 14 October 2018 in Hanover, Germany, during the EuroTier Trade Show. It featured 8 communications and a plenary session. Watch the Feed-a-Gene presentations here:
Technical session on feed efficiency in rabbit production
This stakeholder session organised by IRTA on 10 October 2018 in Caldes de Montbui, Spain, aimed to guide, inform and discuss the factors that affect feed efficiency in rabbit production, its economic importance, the mechanisms for its estimation and the advances that are being made for its improvement. The audience consisted of Spanish rabbit farmers and extension services.
Demonstrations
FeedUtiliGene: a Decision Support System for monogastric livestock production systems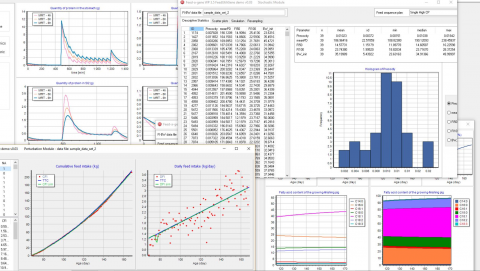 FeedUtiliGene was presented during a demonstration session held in Budapest on 11 October 2018. This software integrates different models developed for pigs and poultry:
Digestion, digestibility of nutrients in feeds ingredients and diets

Metabolic utilization and partitioning of nutrients

Robustness of animals as a response to perturbations

Individual variation
During the demonstration, the participants were able to install and test a preliminary version of the software and to interact with the researchers responsible for the creation of the biological models and of the software. FeedUtiliGene is available upon request from halas.veronika@ke.hu
Precision feeding for growing pigs: how does it work?
During the SPACE trade show (10-13 September 2018, Rennes, France), INRA researchers presented the system of precision feeding for growing pigs developed by Feed-a-Gene. A video made by INRA and IFIP was shown on the INRA booth.
Publications
Feed-a-Gene researchers have made more than 150 publications, including 21 peer-reviewed papers. You can access most of them here:
Upcoming conferences and roadmap for Feed-a-Gene events
Feed-a-Gene researchers will present communications in the following conferences in 2019:
Feed-a-Gene will organize several demonstrations and stakeholder events in the coming months:
On-farm demonstration of precision feeding for pigs: open days for farmers and extension services, Mid-2019, Parma region, Italy

Protein autonomy, more and better: presentation of new feeds and feed processing technologies, October 2019, FEFAC annual meeting, Denmark

Meeting with policy makers, 6 November 2019, Brussels, Belgium, Animal Task Force meeting
Feed-a-Gene final meeting January 2020, Rennes, France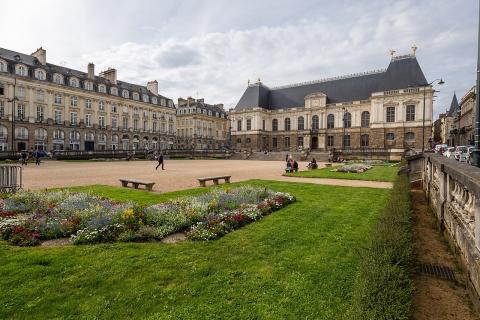 During this event, stakeholders will be able to interact with Feed-a-Gene researchers

Presentation of the results and technologies developed through the Feed-a-Gene programme

Live demonstrations: decision support tools, precision feeders

Workshops: "From Feed-a-Gene results to innovation" on applicability and exploitation of Feed-a-Gene results
Registration will be open soon!
Join Feed-a-Gene on social media!
Information on data protection and privacy
You are subscribed to receive our email newsletters. If you are happy to receive these emails you don't need to do or change anything. You will always be given the option to unsubscribe at the bottom of the emails we send you, or you can log in with your account and unsubscribe from there.