Feed-a-Gene newsletter #5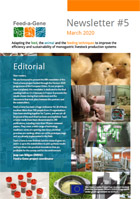 Welcome to the fifth and final Feed-a-Gene newsletter
We are honoured to present the fifth newsletter of the Feed-a-Gene project funded through the Horizon 2020 programme of the European Union. As our project is now completed, this newsletter is dedicated to the final meeting held on 22-23 January in France. It presents the results shown during that conference and the discussions that took place between the partners and the stakeholders.
Feed-a-Gene has been a huge endeavour for all of those involved. More than 100 people from 23 organizations have been working together for 5 years, and we can all be proud of the work that has been accomplished. Feed-a-Gene results have been disseminated in 240 publications, including more than 30 peer-reviewed papers. They cover a wide range of technology readiness: some are opening new doors and their promises are exciting; others are at the prototype stage and are already implemented in the field. Feed-a-Gene is now finished, but the research goes on, and it is up to the stakeholders to pick up these results and turn them into practical innovations that are profitable for the society and for the environment.
Jaap van Milgen (INRAE), Feed-a-Gene project coordinator
The final meeting of the Feed-a-Gene project took place in Rennes, France. This 2-day conference was open to all Feed-a-Gene stakeholders: it was attended by 146 people, half of them from organizations not in the original consortium. During the conference, Feed-a-Gene partners presented the results of the project, and stakeholders were able to provide feedbacks and ideas during the plenary sessions, demonstrations, poster presentations and workshops. Project coordinator Jaap van Milgen and meeting organizers Valérie Heuzé and Gilles Tran would like to thank the staff of the Hôtel de Rennes Métropole who made this meeting possible and enjoyable.

Other demonstrations and stakeholder sessions
The following meetings or seminars were organized by Feed-a-Gene partners or saw an important participation of Feed-a-Gene researchers.
Factsheets
The 6 Feed-a-Gene factsheets are available!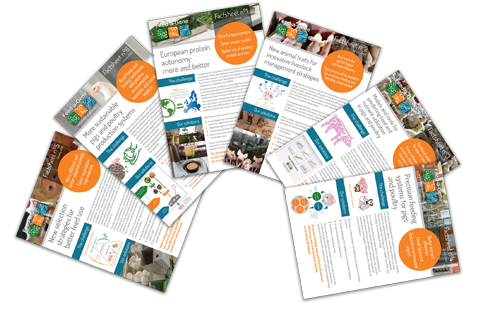 Publications
Feed-a-Gene researchers have made 240 publications, including 33 peer-reviewed papers. You can access them here:
Upcoming conferences
Feed-a-Gene researchers will present communications in the following conferences in 2020:
Join Feed-a-Gene on social media!
Information on data protection and privacy
You are subscribed to receive our email newsletters. If you are happy to receive these emails you don't need to do or change anything. You will always be given the option to unsubscribe at the bottom of the emails we send you, or you can log in with your account and unsubscribe from there.