Feed-a-Gene meets FABRE-TP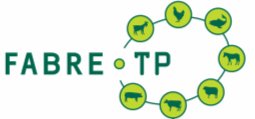 Juan Pablo Sanchez (IRTA) presented Feed-a-Gene at the annual meeting of FABRE-TP in Barcelona, Spain on 10 May 2016. FABRE-TP promotes research and innovation for sustainable animal breeding and reproduction in Europe.
The scientific programme of the FABRE-TP/EFFAB meeting focused on the role of animal production in circular bio-economy and on topics relevant to the animal breeding sector. Juan Pablo Sanchez presented the objectives and activities of the Feed-a-Gene team. He encouraged the participants to register to be part of the stakeholders platform and presented preliminary results obtained on feed intake recording in rabbits raised in group, and on statistical modelling of group intake data. The presentation received positive responses. Participants underlined the importance of dissemination and noted that these activities should target not only farmers and companies, but also consumers and the civil society. The multi-species approach of Feed-a-Gene was appreciated. It was recommended to study feed efficiency as a multifactorial parameter taking into account different physiological processes with their own efficiency.