1st Feed-a-Gene Annual meeting Foulum, Denmark
The first annual meeting of the Feed-a-Gene project took place on 26-28 April 2016 in Foulum, Denmark. It was hosted by Aarhus University, one of the project partners. The meeting was attended by 74 people, including 14 representatives of stakeholder organisations.
The meeting was organised in two parts: the Stakeholder Day (26 April), for the stakeholders, and the main sessions (27-28 April), for the consortium partners.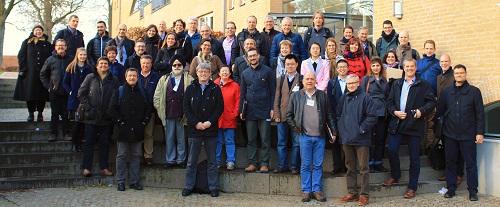 The first annual meeting was the occasion for the Feed-a-Gene partners and stakeholders to meet and discuss, and for the research teams to communicate on the progress made in the past year. Attendees enjoyed the warm welcome and efficient organisation of Aarhus University – Foulum (AU). Feed-a-Gene project coordinator Jaap van Milgen (INRA) and project manager Vincent Troillard (INRA Transfert) would like to thank Professor Knud Erik Bach Knudsen and his team at Aarhus University for their hard work planning and organising this meeting.
Stakeholder Day
The Stakeholder Day was the first opportunity for stakeholders to share their opinions and expectations with the research teams. After a welcome introduction by Klaus Lønne Ingvarsen (AU, Head of the Animal Science Department), an interactive discussion with stakeholders resulted in interesting exchanges, notably on the topics of Near infra-red (NIR) analysis, precision feeding, robustness and consumer acceptance. Stakeholders then participated in the workshop on sustainability assessment of production systems organised by Guy Garrod (Newcastle University). The day ended with a presentation by Søren Krogh Jensen of the activities at AU-Foulum related to circular economy, followed by a guided tour by Ejna Serup of the laboratories (protein extraction, animal tests), pilot plants (green biomass production, hydrothermal liquefaction, biogas production) and other facilities involved in the Feed-a-Gene project.
Main sessions
The programme of main sessions of the annual meeting consisted in two days of talks and workshops that involved Feed-a-Gene researchers, consortium members and the Members of the Stakeholder Advisory Board. The latter actively participated to all sessions and provided much valued feedback at the end of the meeting.
Presentations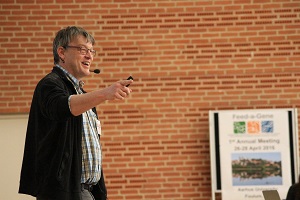 After a presentation of the meeting's objectives by Jaap van Milgen, the coordinators of the European projects ECO-FCE (Elizabeth Magowan, AFBI) and EU-PLF (Daniel Berckmans, KU Leuven) shared their experience and provided useful advice for the management of the programme.
The first – and very promising – results of the Feed-a-Gene project were then presented by researchers in a series of ten presentations. Click here to read a summary of the progress during the first year.
The last talk (Richard Finkers, Wageningen UR) concerned the long-term data management in scientific projects. Click here to read a summary of this talk.
Parallel workshops
Feed-a-Gene research teams met together in six workshop sessions to prepare and coordinate scientific activities in the coming months.